Creating a Sunset Picture
By Peter Hayton
The photos for the painting:
The painting was a commission for a client as a memory of a wonderful holiday in Puket in Thailand. The beach where the painting was taken from had very special memories for her and her husband. The photos, shown below, were the photos taken by the client for the commission.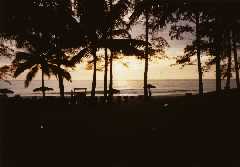 Starting the Painting
Initially the painting is started with a loose pencil drawing followed by the first washes in blue/grey and golden yellows. These are the lightest colours that will form the background. In watercolour paintings the colours are applied light to dark. This type of painting has to have the sky, clouds and sunset painted first in order to apply the trees over the top later on, giving the feeling of transparency.
The next stage in the painting is to start building up some of the shadow and foreground colours for the beach and grass areas and the initial detail and shadows in the trees. It is also at this stage that the pencil sketch is partially rubbed out with a putty rubber. We must never be frightened to use bold colours, nature has a way with colour that is far more courageous and balanced than we could hope to be.
Now the build-up. More details in the clouds on the horizon and the sea. The first details in the trees and the chairs by the beach are started, more shadow work is implemented and the waves on the foreshore start to build up. This is the time when the painting starts to take on the the feeling and boldness that is needed to make it come alive.
The first of the finer details are now applied. More and more layers are applied to the trees and fore ground to give it the feeling of depth and distance. Some of the fussy details in the trees. More shadow under the trees to create the 3D effect that gives you the feeling of being part of the picture.
The final details are now put in, a little more shadowing around the chairs, the most delicate details in the palm fronds, more leaf work in the trees and a few more waves, the people on the beach and finally the birds, the artists little trademark, three seagulls sometimes very well hidden.
The image seen hear is shown in its finished size.7cm x 8.5cm is the average size of my original miniatures
I do hope that this has given a little insight into the painting and intense fun of creating a sunset picture in miniature watercolour, it can become an almost fanatical thing if you allow it, every detail must be in place or the customer will not feel it was their special place. People love their sunsets and it is up to the marine artist to do their very best to supply a lasting memory for the future.